What if brides planned their day around their photography?
I decided 4 years ago that I wanted to send something pretty AND educational to my brides immediately after they booked with me! I wanted them to immediately see the value of what they invested in, and so I started designing a 76 page Bridal Guide for my brides! I designed this for my BRIDES…but little did I know that this project would be SAVING ME TIME! This 76 page Bridal Guide is full of so much bridal education that my brides don't send me lengthy emails with wedding day questions anymore!! We hit a GOLD MINE with this magazine, and we have decided to not only allow other photographers to have access to the DESIGN, but also to ALL OF OUR CONTENT!! Keep reading to find out why over 1200 PHOTOGRAPHERS are using this guide to transform their own client experience!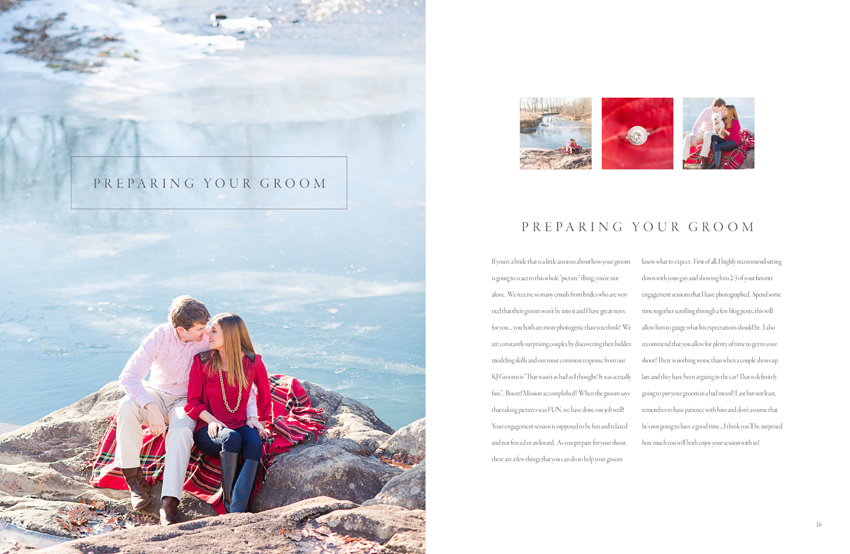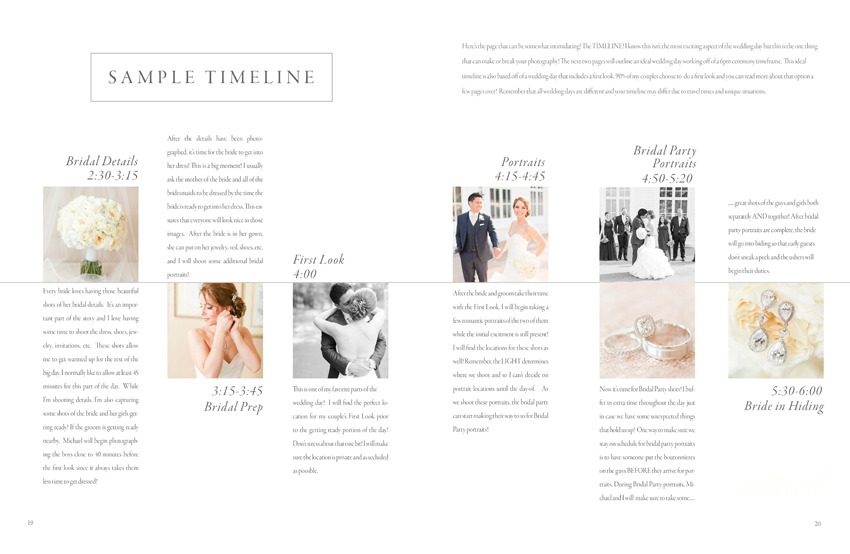 ACCESS TO ALL 76 PAGES OF OUR BRIDAL EDUCATION CONTENT! This teaches brides how to plan their day with their photography in mind!  
4 UNIQUE COVER DESIGN OPTIONS for your magazine to ensure that your guide is uniquely your style!
76 PRE-DESIGNED INDESIGN PAGE LAYOUTS ready for you to insert your own images, print, and mail!
DESIGN TIPS! The design is done for you, but if you have trouble selecting which images should be in your magazine, we've included design tips to help you along the way!
KJ Bridal Guide 2.0 Topics Include…
Welcome pages to introduce yourself to your new couple in detail!
Engagement Session Prep
How to Prepare your Groom for the Engagement Session
Engagement Outfit Inspiration
Pre-ceremony Timing Tips
Sample Wedding Day Timeline
Bridal Details Checklist
Family Formal Sample Portrait List
Wedding Advice for Different Seasons
Reception Planning Tips
The First Look Explained
The Benefits of the First Look!
Testimonials from the Groom about the First Look
Why You Should Trust Your Photographer's Locations
The Daddy/Daughter First Look
Rainy Wedding Day Prep
The "Controlled" Exit Explained
Albums Promotional Page
How to Use Your Online Gallery
And so much more!!!
*This product is an INDESIGN file format (not for use in Photoshop)
Here's What Other Bridal Guide Users & KJ Brides are Saying…
Oh my goodness, Katelyn's Bridal Guide is AMAZING!! It's the most helpful thing I've ever seen!!! This was a lifesaver and huge stress reliever when I was planning our wedding!!
BRITNE (KJ Bride)
This Bridal Guide was a GAME CHANGER for my business! It gave me a beautiful way to demonstrate to my clients how their experience should go, why I make the suggestions I make, and it gives them something to refer to over and over again! Every wedding I have booked and sent this guide to has had my preferred timeline and went so much smoother, allowing me to be more creative! I highly recommend this!
CANDI
I would be so lost without your timeline! It is a lifesaver and therefore.. It is by far my favorite part of the book. I also love your explanation of first looks – it really helps me explain it (and why I NEED it) to family members that have never heard of a first look! Thank you!!
MELISSA (KJ Bride)
The details section helped me realize the importance of those photos that people aren't in! They help create a wedding story of the entire day, and I'm glad I didn't miss out on that because of your direction!
BRITTA (KJ Bride)
My experience with Katelyn's Bridal Guide has been amazing; I have gotten so many compliments from brides! Since purchasing the Guide, I feel much more confident as a wedding photographer and more organized in my client workflow. I've also noticed my weddings have gone so much smoother now that my brides are well educated on how to best prepare for their day.
CAROLINE
Especially the first look section, is GREAT!! Ryan was against it (first look) from the beginning, and we are so grateful that we decided to do one! It was also just a really sweet thing, to receive from you, when we booked!
SARAH (KJ Bride)
I'm IN LOVE with my Bridal Guide that I created using Katelyn James' template! It was incredibly easy to customize; the only hard part was choosing which images to share in it! I had never given my brides anything like this before in the past and now having sent out several, the feedback I've gotten from my brides has been incredible.
COURTNEY
The timeline was extremely helpful! I wouldn't have had any idea how to plan a timeline without your guide! I used it to map out my whole day, and it worked perfectly! Loved the guide! And I still have it lying out because it's GORGEOUS!!
KATHRYN (KJ Bride)
I have been trying to put together a bridal magazine for over 2 years. I have even purchased other magazine templates, but they just did not allow me to communicate the best photography experience to my brides in a clear and succinct manner. TERRI
It was so helpful knowing what a normal wedding day timeline looked like! I also loved reading that I should gather my detail shot items together and have those ready to go, and keep the area where my mom, bridesmaids, and I were getting ready clean and uncluttered. Because of the guide, I knew that when you arrived on our wedding day, the first thing you were going to do was shoot details – and that was so helpful, because I didn't have to worry about what was coming next (since I am such an over-planner!). I loved the guide and even though my wedding was in 2014, I still have it!!
BROOKE (KJ Bride)
Just looking at all the content after the download made we wish I had done it sooner. I know every couple will appreciate this guide as much as we are excited to make it perfect for them. From the engagement session, to details and timeline, all the information they will need will be elegant and presented in an extremely professional way. I love it!!
CHRIS